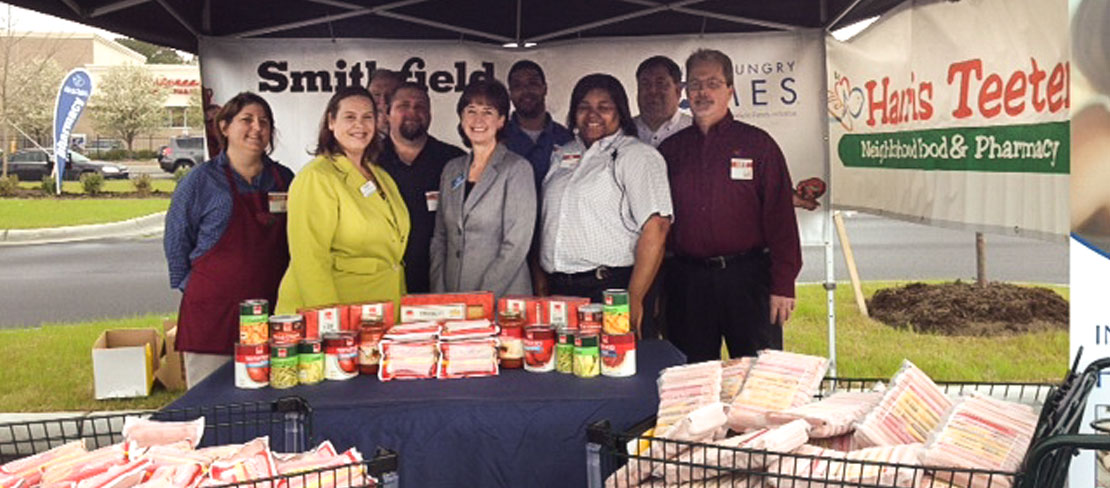 Smithfield and Harris Teeter donate 80,000 pounds of protein to the Foodbank
Smithfield and Harris Teeter donate 80,000 pounds of protein to the Foodbank of southeastern Virginia and the Eastern Shore and the Virginia Peninsula Foodbank as part of
"HELPING HUNGRY HOMES" TOUR
Donation Will Provide More Than 320,000 Servings of Protein to Hampton Roads Families
Norfolk, VA – April 8, 2014 – Smithfield and Harris Teeter are partnering to help feed families in Hampton Roads by donating a combined 80,000 pounds of protein to the Foodbank of Southeastern Virginia and the Eastern Shore and the Virginia Peninsula Foodbank. Each of the two food banks will receive 40,000 pounds. The joint effort is part of Smithfield's Helping Hungry Homes program.
Representatives from Smithfield and Harris will present the donation at 11:00 AM on Tuesday, April 8, at Harris Teeter, located at 7550 Granby Street, Norfolk, VA.
"Purchasing protein-packed items such as meats can be a real challenge for our customers because of the high cost," said Joanne E. Batson, CEO for the Foodbank of Southeastern Virginia. "We greatly appreciate this donation and so will our Partner Agencies who work closely with us to serve those who are struggling to put food on the table."
"We are extremely grateful to Smithfield Foods for their continued partnership in helping to provide hunger relief in the greater Peninsula area," said Karen Joyner, Chief Executive Officer for Virginia Peninsula Foodbank. "This donation helps to provide over 33,000 protein enriched meals, a much needed nutrient for our neighbors in need."
"Harris Teeter appreciates all that its local food bank partners do to fight hunger in the community," said Catherine Becker, Communication Manager for Harris Teeter. "We make it a priority to support their efforts and also thank Smithfield for giving us this opportunity to participate in the Helping Hungry Homes program."
"Smithfield has made more than 180 donations across the country under the company's Helping Hungry Homes program. Through this donation, we will provide more than 320,000 servings of protein to the Foodbank of Southeastern Virginia and the Virginia Peninsula Food Bank," said Dennis Pittman, Smithfield Director of Corporate Communications and Public Affairs. "Our corporate headquarters are just down the road from here in Smithfield, VA. We're proud to partner with Harris Teeter to make this substantial donation to benefit families in our local community."
Smithfield Foods and its independent operating companies have a long history of stocking food banks, supporting after-school nutrition programs and providing food relief in the wake of natural disasters. In January 2008, Smithfield established their Helping Hungry Homes® initiatives to help ensure that American families in need do not go hungry.
# # #