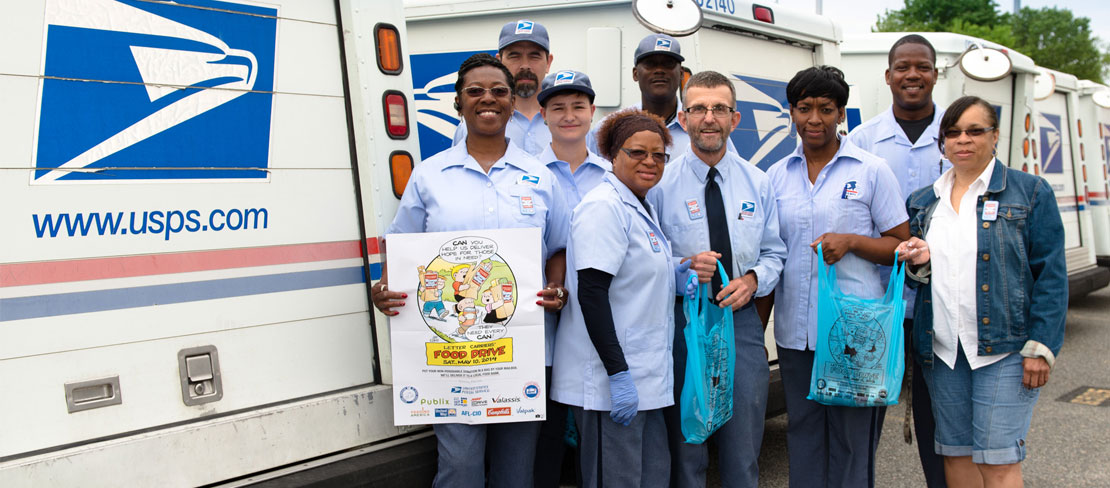 The National Association of Letter Carriers and the Foodbank of the Virginia Peninsula Come Together to Stamp Out Hunger Across the Greater Peninsula
[Hampton, VA] – May 1, 2014 –Saturday, May 10th marks the 22nd anniversary of one of America's great days of giving — the National Association of Letter Carriers Stamp Out Hunger Food Drive. Letter carriers walk through their communities each day and see the effects of hunger on many of our neighbors. In order to alleviate this issue, every year on the second Saturday in May, letter carriers across the country collect non-perishable food donations to help out our hungry neighbors.
The N.A.L.C. Stamp Out Hunger Food Drive comes at a crucial time when donations are at an all-time low. Food banks and pantries receive the majority of their donations during the Thanksgiving and Christmas holiday seasons. However, hunger has no season; it's an annual problem. By springtime many pantries are depleted, and during summer, many school breakfast and lunch programs are not available to children in need.
Currently, almost 74,000 individuals in the Virginia Peninsula Foodbank's service area are at risk of food insecurity, meaning they have limited or uncertain access to enough food to support an active, healthy lifestyle. Often these individuals are too embarrassed to ask for help. Many families have to make difficult decisions between paying rent, buying medications, or purchasing food.
Participating in this year's Letter Carrier Stamp Out Hunger Food Drive is easy. Simply leave a non-perishable food donation in a bag by your mailbox or in the blue bag that they provide, and on Saturday, May 10th, your letter carrier will do the rest. A monetary donation can also be made on-line.  For every $1 donated, the Foodbank can provide nearly eight dollars' worth of food.
"We are grateful to the local carriers for their time, energy and passion to make a difference and for the generosity from our community for the gift of a meal on this great day of giving," said Michele Benson-Howell, Chief Development Officer. "Together, we can provide hope to families facing hunger."