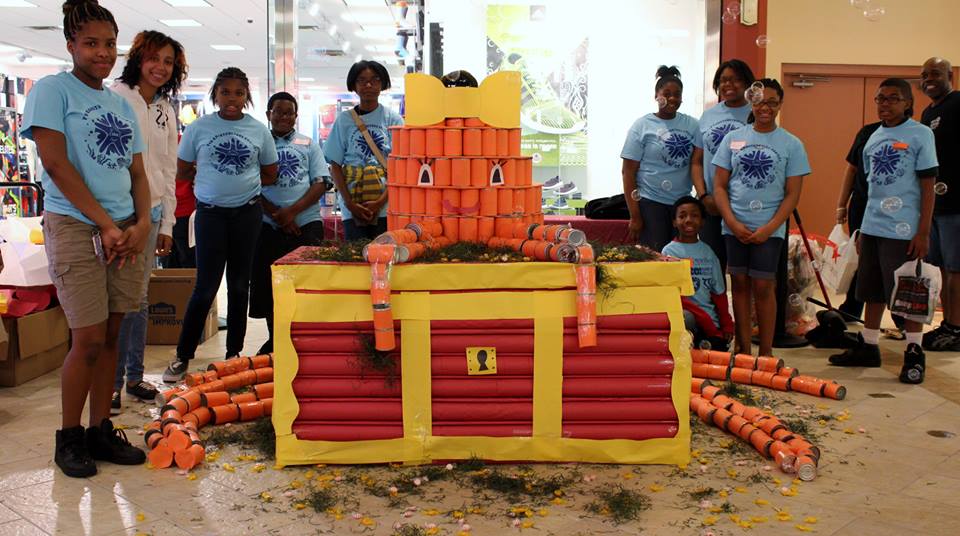 The 4th Annual Youth Volunteer Corps Canstructure Contest Benefits the Virginia Peninsula Foodbank
[Hampton, VA] – April 14, 2015 – Teams of youth volunteers from 12 area schools are coming together on April 18th at Patrick Henry Mall in honor of Global Youth Service Day, to build structures using non-perishable canned goods as their building materials.   These students are representing Youth Volunteer Corp of Hampton Roads, a non-profit, that engages youth in meaningful volunteer opportunities that positively impact the lives of others. The following schools are represented: Booker T. Washington, York, Dozier, Hampton Roads Academy, Trinity Lutheran, An Achievable Dream, Heritage, Menchville, Warwick, Woodside, Denbigh and Dutrow.
This challenging Canstructure Contest, organized by Youth Volunteer Corps and sponsored by Patrick Henry Mall, Spectrum, Towne Bank, Enspyr, Grainger Foundation, Consumer Litigation and Associates, and Law Offices of Philip J. Forbes, is a great way for the students to showcase the tremendous impact they have on alleviating hunger in our community. This contest allows the students an opportunity to learn through team building, while designing a structure that fits the "Back to the Future" theme.   Last year they were able to donate 12,756 pounds of food to the Virginia Peninsula Foodbank. This year's goal is to collect over 14,000 pounds of food.
"This event comes at a time of year when donations are extremely low," said Chief Development Officer, Michele Benson. "The Canstructure Contest comes at a perfect time to help replenish our shelves."
The YVC invites the community to support our youth and view these creative structures built from canned goods that they collected from their class mates. The structures will remain at Patrick Henry Mall for a week for public view. Awards will be distributed at 3 pm and keynote speakers for this event include Levar Stoney, Secretary of the Commonwealth of Virginia and Newport News City Mayor McKinley Price. For more information, visit www.yvchr.org