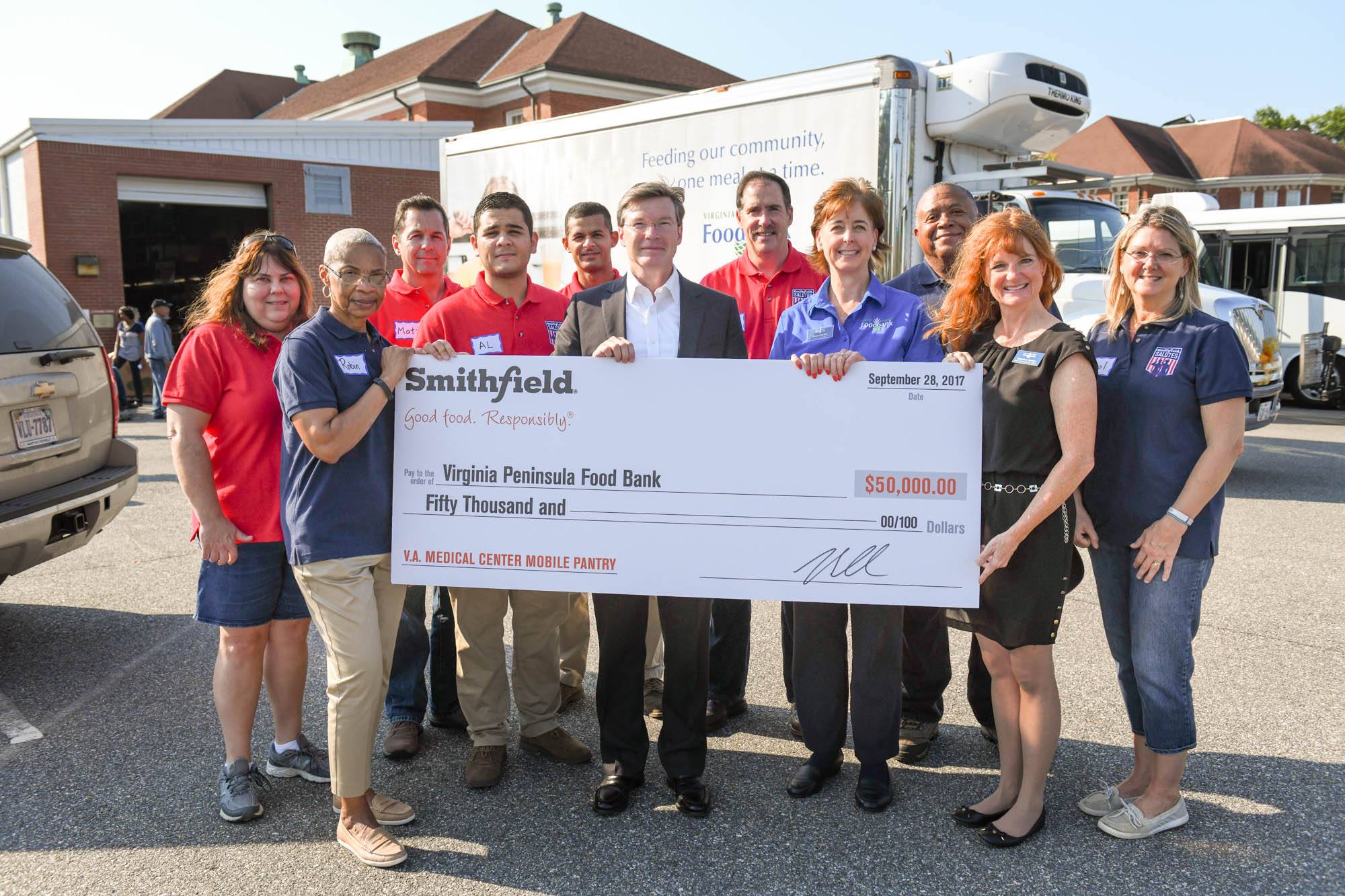 Smithfield Foods Supports Mobile Food Pantry for Virginia Veterans
SMITHFIELD, Va., Sept. 28, 2017 (GLOBE NEWSWIRE) — Smithfield Foods has joined forces with the Virginia Peninsula Foodbank to support its Mobile Food Pantry program at the Hampton VA Medical Center in Hampton Roads, Virginia. The global food company presented a $50,000 donation to the local foodbank at the mobile pantry site, where company employees volunteered to distribute fresh produce, meat and other food items to veterans and their families.
"Across the country, nearly three million veterans and their families don't have enough to eat each month," said Michele Benson, chief development officer for Virginia Peninsula Foodbank. "We're tremendously thankful for Smithfield's generous donation and the positive impact it will make combatting hunger among veterans here in Virginia."
The Foodbank's Mobile Pantry Program delivers and distributes fresh, healthy food directly into communities and neighborhoods. Each month, the mobile pantry unit, sponsored by Smithfield Foods, will visit the Hampton VA Medical Center. Company volunteers who are part of Smithfield Salutes, an employee resource group developed to support veteran employees in their Smithfield careers as well as employees wishing to support veteran causes, volunteered at this month's event.
Smithfield's support of this program aligns with its social purpose to improve food insecurity and end hunger. It also aligns with the company's philanthropic efforts, which includes supporting hunger-relief and veterans' causes among other areas of focus.
"Great sacrifices have been made by those who have served and access to a healthy meal should never be one of them," said Dennis Treacy, president of the Smithfield Foundation. "We are honored to support this program and the nutrition it provides to veterans and their loved ones."
This Mobile Food Pantry Program event occurs on the fourth Thursday of every month from 10 a.m. to 12 p.m. at the VA Medical Center in Hampton, Virginia. Any veteran seeking food assistance is welcome to attend and receive nutritious meal components that will lead to a healthier lifestyle. For more information, please contact the Virginia Peninsula Foodbank at (757) 596-7188.
Read the original article here on Globe Newswire
https://globenewswire.com/news-release/2017/09/28/1134604/0/en/Smithfield-Foods-Supports-Mobile-Food-Pantry-for-Virginia-Veterans.html