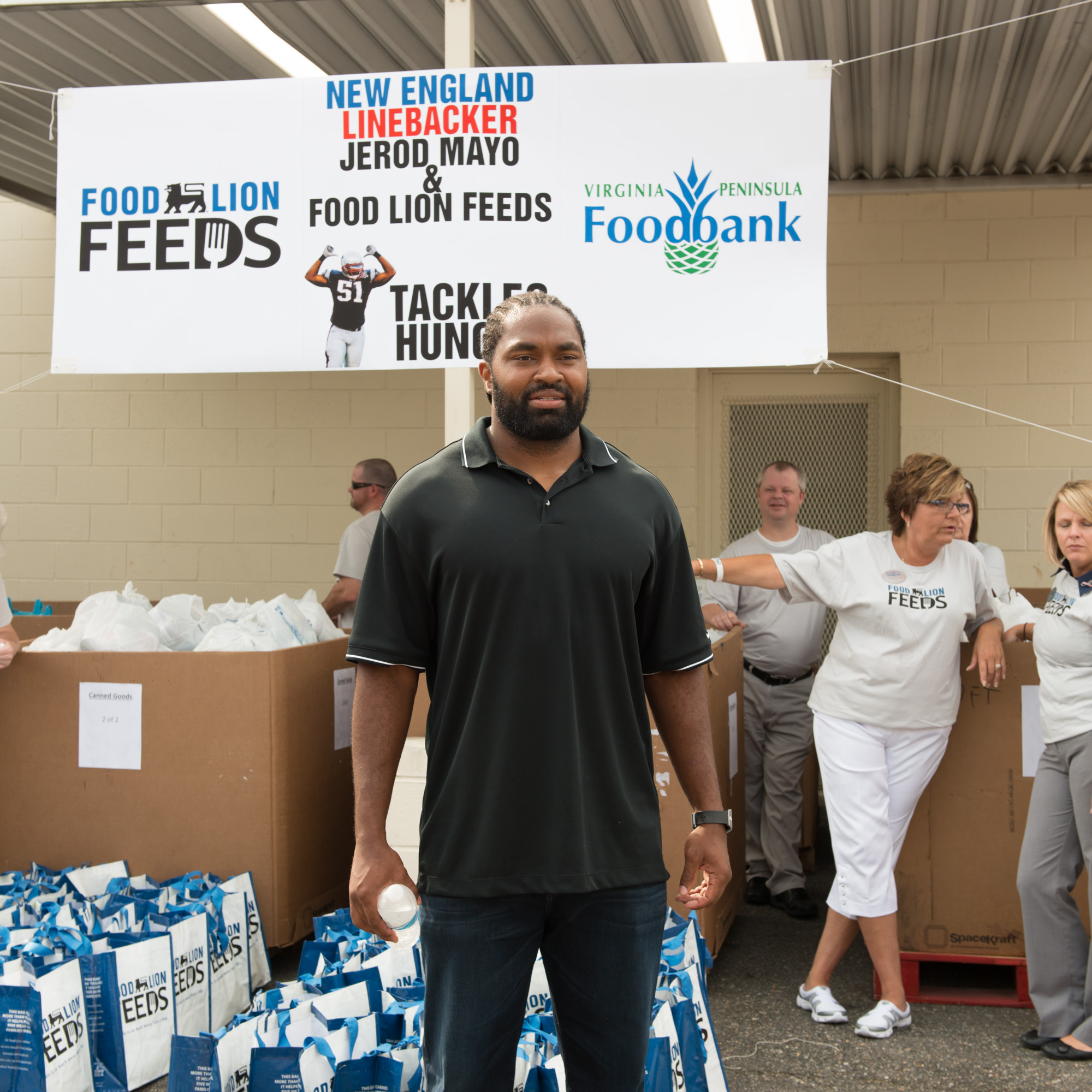 Jerod Mayo Giving Back to Our Community
Written by Adam Tyler and E. Jordan  
Cars waited lined up on Nickerson Blvd. Wednesday morning as the lives of Hampton families and Food Lion employees intersected with New England Patriots linebacker, Jerod Mayo.
"He wanted to feed 100 families for a week, "says Andrew Council, Food Sourcing Manager at the Virginia Peninsula Foodbank, and that is exactly what Mayo did. Council, who played an integral part in planning the details of the menu and distribution, says that a phone call in April started the ball rolling. Since then, teams worked behind the scenes to lay plans for the special day scheduled for July 9th. Volunteers packed bags of groceries, Food Lion matched Mayo's $10,000 donation, and the Foodbank's partner agencies identified families in Mayo's hometown who would most benefit from his kindness.
Tony, who has worked at Food Lion for a year, was one of over 20 employees who volunteered to help with the event. Side by side with his coworkers, he organized canned goods and dry foods, enough to feed each family for a week.
"It's a really great cause." Tony says, going on to explain that he didn't mind arriving at 8AM on his day off to be involved.
The day also represented a partnership of the Virginia Peninsula Foodbank and Food Lion Feeds Program, which can provide meals for up to five families for each shopper donation. Wanda Marshburn, Food Lion Regional Director, says that employees were honored that Mayo singled out the Hampton store for the distribution, and she quoted their program motto to explain the heart behind the partnership.
"No one should have to choose between paying rent and buying groceries."
Watching the scene unfold provided ample opportunity to see Mayo's personal investment in the project. The 28-year-old Hampton native conversed casually with the volunteers and food recipients.  With no trace of celebrity elitism, Mayo shared with the people of his hometown, placing himself in the middle of the action loading bags into cars and personally handing gift cards to families.
"It all started here. Giving back to the community has always been what I've done from a young age," Mayo said, proving that fame hasn't caused him to forget his roots. The end result could be seen in the smiling faces gathered to celebrate a step towards minimizing hunger in Hampton.
The story, however, doesn't end there. Mayo's vision has had a ripple effect on those he has helped. Food recipient and Hampton resident, Jackie, admits that with the economy the way it is, keeping the pantry stocked is a struggle for everyone. That is why she doesn't plan to keep Mayo's generosity to herself.
"What we don't use, I plan to share. So it's going to help more than just us."
The Virginia Peninsula Foodbank and Food Lion thrive on this spirit of helping others through sharing their resources. Please consider what you can do to minimize hunger on the Peninsula this summer.