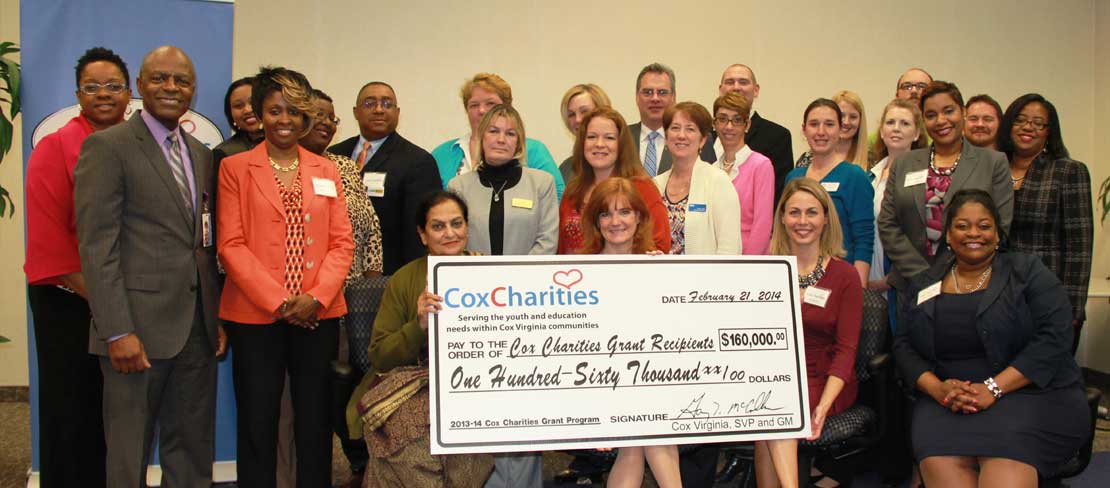 COX CHARITIES Makes Generous Gifts to Local Non-Profit Organizations
Hampton, Va. – The Foodbank of the Virginia Peninsula was grateful to receive a $10,000 grant from Cox Communications awarded through Cox Charities grants programs. The grants presented are part of the nearly $8 million Cox contributes annually through cash and in-kind support to the communities where they do business.
"Connecting with the communities we serve is an important part of our operations and is at the core of our company values," said Gary McCollum, senior vice president and general manager for Cox Virginia. "We're proud to give back to these 25 outstanding organizations today that are doing their part to enhance the lives of others and improve the places our employees and customers live and work."
The External Grants program focuses on non-profit organizations with programs specifically tied to youth, education and technology. Non-profits apply for these annual grants and from those applications, 15 are chosen statewide by an advisory committee made up of community, business and government leaders throughout the state.
The Foodbank is a charitable organization that solicits, receives, inventories, stores, and distributes purchased and donated food and grocery products to charitable agencies that directly help the needy. Funds from this much needed grant will be used to provide much needed hot, nutritious meals through the Foodbank Kids Cafe Program. The Kids Cafe Program is a structured after-school program that promotes health, education and safety. It operates as a result of commitments from community collaborations of non-profit organizations, individuals, and the Foodbank of the Virginia Peninsula. The Foodbank and its partners believe that children should experience success, safety and the opportunity to reach their fullest potential. By providing much needed meals to children, we are increasing potential for future success throughout the community.
"We are very grateful to be a recipient of this grant, and appreciative of the commitment of Cox Charities to their community," said Michele Benson-Howell, Chief Development Officer for the Foodbank of the Virginia Peninsula.
For more breaking news and more about our work visit us online at www.hrfoodbank.org, on Facebook at www.Facebook.com/VAPenFoodbank, and on Twitter at www.Twitter.com/hrfoodbank.
###